Our Electrical Department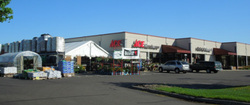 Our electrical department carries a wide range of tools and accessories needed for home projects. Whether you're wiring your new ceiling fan, fixing the plug on your vacuum, in need of an adapter for your Holiday lights, or putting accent lights in your back yard, we have what you need to get the job done right, the first time, so you can get back to your life.
We also carry the basics: light bulbs, batteries, flashlights, everything you need at our convenient, local store. Need help? Our insightful employees can get you on the right track and get you on your way again, no need to go to the big box stores.
See our
Battery Place
page for information on accessing over 180,000 batteries through Ace!
---
We Carry:
-Lighting Fixtures
-Light Bulbs
-Outdoor Lighting
-Extension Cords
-Power Strips
-Batteries and Chargers
-Electrical Tape, Tools and Testers
-Switches, Dimmers and Receptacles
-LED and CFL Lighting
-Door Chimes and Buttons


-Elecrtical Boxes, Conduit and Fittings
-Fuses and Circuit Breakers
-Wire Connectors and Fasteners
-Bulk Wire
-Plugs and Connectors
-Lamps and Lamp Repair Parts
-Flashlights
-Video, Cable Connectors and Accessories
-Zip Ties