Paints and Sundries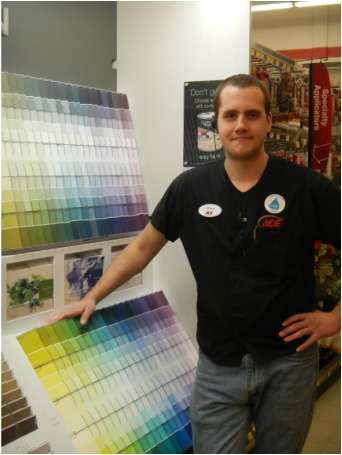 Picking the right paint and correct preparation is just as important as picking that perfect color. With Ace's employee expertise, we can help you prep, paint, and admire your home or project.

Need to match that hard to find color? No problem! Our paint system has access to many color collections, from Nickelodeon, Behr, Benjamin Moore and many others, so we can formulate the colors you want into our Ace brand or Clark+Kensignton paints. Need to match a color that's already on something? With our computerized paint-matching technology, we can digitally match practically any paint sample, fabric, or preexisting paint, all we need is a clean sample about the size of a quarter.

We carry Ace Brand Paints, including Ace Royal, a high quality, long lasting paint that is sure to please, and now our new Clark+Kensington Paint and Primer in One. We also carry a wide variety of primers, stains, and other painting supplies to get your painting project done the right way.
---
A Few Notes About Painting...

Since preparation is just as important as the paint job itself, set yourself up with some must-have painting accessories. Take a few moments to repair small nail holes in the walls and fill in cracks and crevices with spackle or vinyl filler. Then, smooth the rough spots and create clean edges by applying masking tape around windows, doors, and where the walls meet the ceiling and floor.
When you've chosen your paint color and finish, there are a few standard painting tools to have on hand. You'll need enough paint trays and brushes per painter and a few extra if you're applying more than one color. Many tools will help speed up the painting process including step ladders, extension poles, and edging sponges to access spots out of reach.
When you've finished, remember to clean your painting equipment using soap and water (if using latex based paint) or mineral spirits or paint thinner (if using oil based paint). With the right care, these tools can be used more than once, saving you time and money, so you can get your weekend back.

---

We Carry:

Adhesives and Glues
Brushes and Rollers
Caulk and Sealants
Compressors
Drop Cloths and Rags
Exterior Paints and Water Sealers
Faux Finishing Tools
Ladders
Masking Tape and Paper
Paint Strippers and Removers
Paint Sprayers
Roof/Foundation Coatings
Sandpaper and Steel Wool
Specialty Glues
Specialty Paints
Spray Paints
Stains
Trimming and Edging Tools
Varnish and Polyurethane
Wallpaper Accessories
Wood Filler